Member Credit: TunerMax
I had a free SMD LED board from HIDextra and decided to install some under hood lighting, something they should have done at Nissan. Thought I'd share this with you guys I'm sure there are quite a few of you that would be very interested in doing this.
Tools Needed:
LED Board, preferably 3×3 or larger SMD type with 3M tape backing I recommend installing a few, or using standard incandecent lighting (I'll be changing to that set up) It's up to you, wiring is the same.
About 10-15′ of 2wire cord. 18AWG is fine
2 – 18AWG 'butt' connectors
1 – 3/16″ shrink tube
Solder and electrical tape
Locate your security system hood switch
This switch is GROUND triggered. Unplug it, you want to tap into the Security circuit side, that's the yellow wire.
Strip it or cut it, up to you, but you want to tap into this wire.
Run your wire, I mounted my LED board next to the A/C tag, you can put multiple lights (I'll definitely add a few later, or change out to incandescent lighting) or put them where ever you want. I'm just showing you where I chose though.
Run it under the hood insulation, over to the hinge and around your strut tower mount, over to the fuse panel next to the battery, and finally to the yellow wire for the hood switch. Do a good job of this or you'll just blow a fuse and have to re-do it anyway. Make sure the wire isn't going to rub anywhere and make sure it's well secured.
Strip back the 2 wire cord, separating the 2 wires from each other. Strip back one wire until it's separated at the fuse panel. I didn't take pics of this, I apologize, you can just bare the wire and install it on the 'out' side of a 10A fuse, or you can do it properly and remove the fuse panel, and solder into the 'out' terminal of a 10A fuse port.
Either way make sure you fuse it, you'll be running live power constantly to the hood light(s), and that wire moves every time the hood opens.
Now hook up the other wire to the yellow wire on the hood switch.
If you have labeled 2 wire (tracer line on one wire) then you can just hook up the LED + to + and – to -. If you're unsure, bare the wires and test them, as soon as it's hooked up correctly the LED's will come on.
Double check that they shut off when the switch is depressed: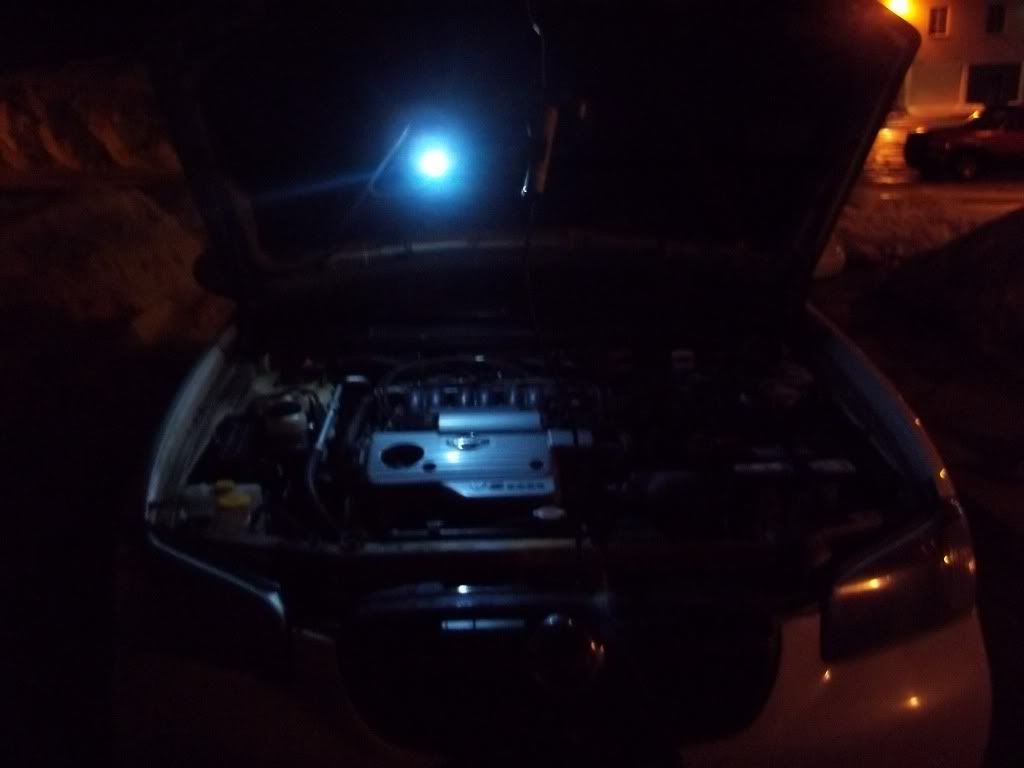 Now secure all wiring, loom, and shrink wrap connections, tidy up and enjoy the light when you open that hood!!
Start to finish this took me about 20mins in the dark. Expect a bit more if you're adding more lights. A Cheap, quick and very usefull upgrade!
And for those of you concerned, NO this will not in any way affect your security system.