Last Updated: 10/19/2020 @ 01:43 pm
Z32 MAF Part Number: 22680-30P00
Tomei Z32 Airflow Meter Harness Part Number: 194002
The Z32 Mass Air Flow (MAF) sensor is great for turbo or supercharged setups. If you are not boosted then you do not need these. If you are boosted, the Z32 MAF allows you to measure more airflow into the engine than what the stock A32 MAF can. The Z32 MAF is calibrated for higher airflow and you can stay with an airflow referenced fuel metering system. The A32 MAF maxes out at an airflow equivalent to about 300HP and the Z32 MAF can meter about 500HP worth of air.
The J30 and the Z32 MAF both have the same sensor, just different harness connectors. The Z32 connector has two extra unused pins. Sometimes you can save money if the junkyard dealer doesn't realize that the J30 MAF is the same as the Z32.
To simplify the installation, you can grab a Tomei Harness. The part number is 194002.
Z32 MAF Plug
A (No wire) = not used
B (White) = A32 White (Signal Wire)
C (Black) = A32 Black (Ground)
D (Orange) = A32 Black (Ground)
E (Black/White) = A32 Red (Power)
F (No Wire) = not used
1995-1999 5thgen Maxima MAF Pinout
Pin 1: White = MAF signal (White)
Pin 2: Ground (Black)
Pin 3: +12v ( Red)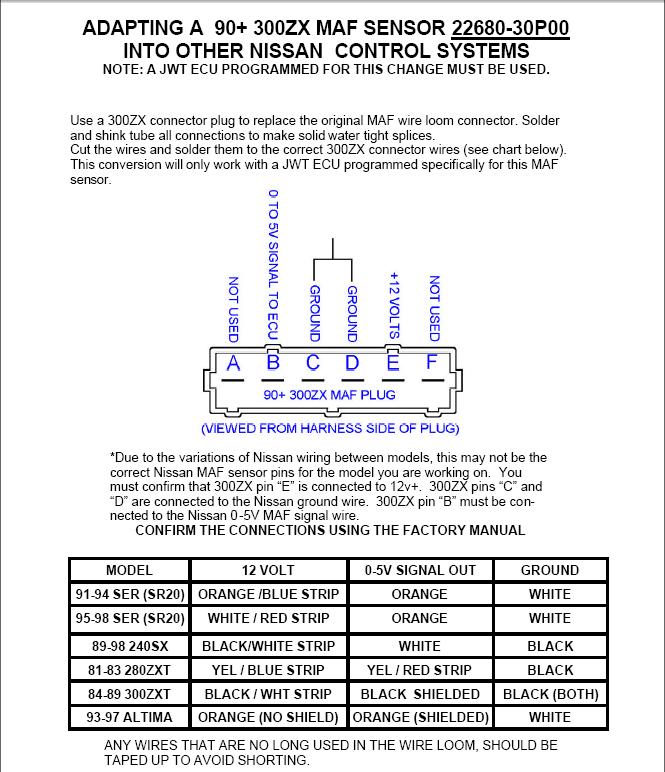 Photo's of Z32 MAF Sensor Installed