Last Updated: 02/20/2023 @ 04:39 pm
Owner: Christopher Anthony Hernandez aka Chernmax
Year: 2004
Model: Maxima
Color: Red
Engine: VQ35DE
Transmission: 5-Speed Automatic
Trim: SE
This post is dedicated to our good friend and fellow car enthusiast Chris Hernandez aka Chernmax. He was a true pioneer in the Nissan Maxima community and never hesitated to help a fellow member out. Chris was the first to turbo a 6thgen Nissan Maxima and inspired many others to push the 6thgen Maxima to the limit. You will be greatly missed Chris. This post is dedicated to you. – With Love – my4dsc.com and the Nissan Maxima Community!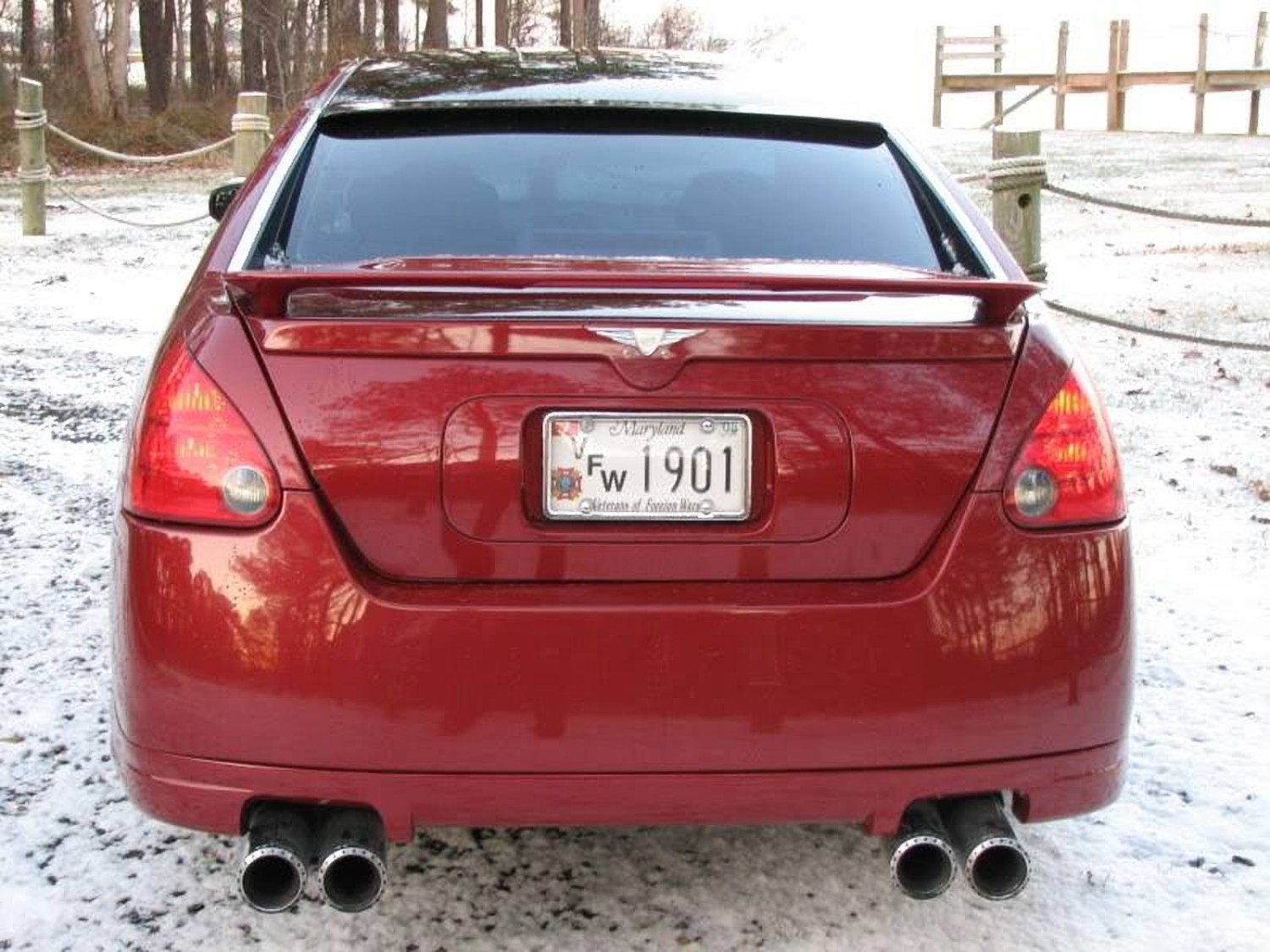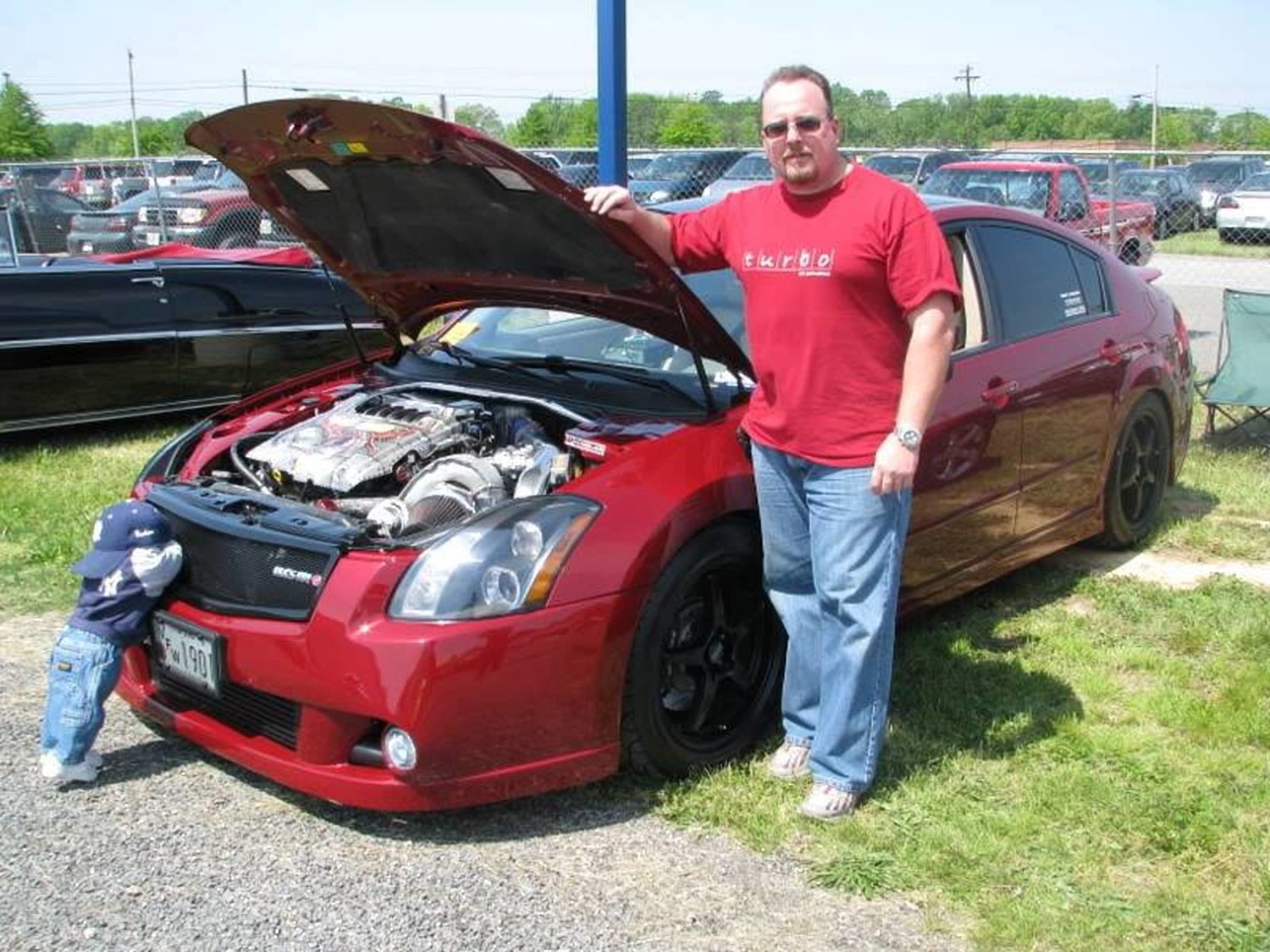 Mod List:
Engine
– Speed Force Racing Turbo Kit (Stage 2)
– Turbonetics T60-1 Turbo
– Tial 38mm Wastegate
– Tial 38mm Blowoff valve
– Spearco Intercooler
– B & M SuperCooler Tranny Cooler #70622
– GReddy Profec B spec-II Electronic Boost Controller
– AEM UEGO wide band monitor
– Slit Second A/F Turbo control computer
– Kinetix Intake manifold
– 440CC fuel injectors with Autolight XP Extreme Performance iridium sparkplugs
– Walbro 255High Flow Fuel Pump
– Custom polished Turbo intake pipe
– NWP (Upper/Lower) IM Phenolic Spacers
– OBX-R Silicon Radiator hoses (U/L) New!!!
– COMETIC Head Gaskets
– Arias Low Compression Racing Pistons (1000hp / 8.6 to 1)
– Brian Crower Pro Series Connecting Rods
– ARP Head Bolts
– Unorthodox Racing Lightweight Racing Pulley
– Cosworth High Performance Rod Bearings
– GReddy oil cap
– GReddy radiator cap
– Custom hand painted and airbrushed engine cover (80 hours by graphic artist Joe Kerner) This does NOT come with car, sorry…
– Custom side painted engine covers
– Custom Injen Intake Filter Heat Shield
Exhaust System
– Hotshot Headers with High flow cat (modified for Turbo)
– GReddy SP-II catback system with custom REMUS Duel Turbo exhaust mufflers
Suspension
– D2 Racing RS Coilovers D2-N06
– Racingline Front and Rear Endlinks (with Energy Suspension bushings)
– Racingline Motor Mount inserts (Front/Rear)
– 2005 Nissan Altima SE-R front lower Anti Sway Bar (24mm verse 22mm)
– Stillen FUSB (custom polished)
– Stillen Rear anti-sway bar
– Custom Rear Upper Support Brace
Braking
– Wilwood 4 piston BBK with 13.25″ rotors front
– Wilwood 4 piston BBK with 12.9″ rotors rear
– Wilwood SS Performance Kevlar/steel braided brake line
– Hawk HPS brake pads
Tires/Rims
– Rims: O.Z. Crono HT Black Painted (19.5 lbs) (18X8 – 5x114mm offset) (newly sodium blasted and repainted!!!)
– Eibach 5mm spacer kit with Tuner lug nuts
– Tires: Nitto 555 Extreme Performance (Ultra High Performance) (240/45ZR/18) (New, less than 500 miles!!!)
– Full racing spare on 5th OZ HT Comp Lightweight Racing Rims and Nitto 555 tire!
Electrical
– Activetuning ground wiring kit (Blue)
– PIAA 9000 Hyper white Halo fogs.
– Custom LED Tail lights
– Customlightz front headlight mod (Painted semi flat black with upper/lower blue halo's)
– Custom LED blue lights on lower bumper highlighting intercooler
– Optima Yellow Top power cell (trunk mounted)
– Optima custom polish aluminum battery bracket
– Stinger battery terminals with positive terminal LED readout
– Switchback LED Turning lights
Body
– Activetuning S4.1 Grill (Onyx black with powder coated diamond mesh grill and custom NISMO emblem)
– RedLineMax Front Bumper
– Stillen Side Ground effects (custom aluminum NISMO emblems)
– 07 Rear Bumper conversion
– Debadged trunk with custom Nissan Emblem
– G35 Rear Spoiler (with 4th brake light)
– Custom L.E.D. tail lights
– 35/20/35% window tint (MD state legal)
– JDM Style roof spoiler
– Custom painted hood and roof Nissan Onyx Black
Interior
– Momo red crystal shifter
– Momo racing peddles
– Tenko-R billet aluminum e-brake handle
– RedLineGoods custom calf leather ebrakeboot
– Real Burl wood dash kit
– Custom carbon fiber side mirror covers
– B-Quiet Ultimate trunk and rear seat sound proofing
– Hard wired radar detector