Community Member Credit: Carleton Wu
Having suspected a rear main seal leak for some time and oil covering tranny case (although bad diff. bearings also to blame) and high oil consumption. I dropped the tranny to do a tranny swap and found that the rear main seal was definitely leaking. There was no clutch slippage and the clutch disc did not have evidence of contamination–I think the flywheel shielded it some.
Flywheel removed (note oily residue all over):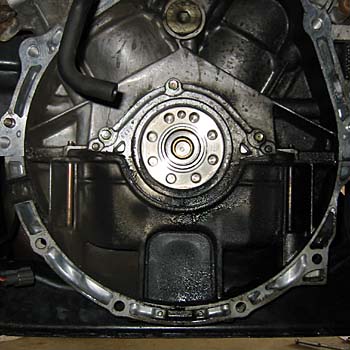 Step one: Drain engine oil. Clean area (I used brake cleaner) and remove old seal–it is more of a bracket with integrated inner rubber seal. This includes any old stuck-on gasket sealant attached to the metal surfaces. It should look like this after:
Step two: With new OEM rear main bearing seal in hand (THANKS, JRNISSAN!), coat the appropriate edges with permatex high-temp gasket sealant — the edges will have a channel to hold in the sealant. Coat the inner rubber seal with a light coat of motor oil.
Step three: Very carefully insert seal. Make sure you do not deform (ie. force it) the rubber inner seal or you will tear it (the damned seal ain't cheap!) or the metal inner retaining spring will pop out. You want to gently nudge it over the crank so the seal sits flush. Make sure you allow sufficient time for the Permatex to cure.
The end result should look like this: