Last Updated: 04/02/2023 @ 02:48 pm
Community Member Credit: EddyMaxx
I was looking to replace the steering wheel on my 1998 4thgen Nissan Maxima. I looked at various options and came across an 8thgen steering wheel that fits perfectly and literally plug-n-play (for the fitment and airbag wiring). It feels and looks much better than the regular 4thgen steering wheel. It's also a flat-bottom steering wheel.
Overall, I'm very happy with the results. It took me about 45-minutes to get everything set up and installed. The cruise control wiring is optional but does require additional wiring if you want to retain the ones on the 8thgen steering wheel. You also need to ensure you get the steering wheel with regular cruise control, not intelligent cruise control.
Installation Details:
This setup uses the existing 4thgen Maxima clock spring. The 8thgen steering fits perfectly with no issues. All you need to do is route the clockspring wires through the center of the wheel.
I recommend going with the 2016-2018 Maxima steering wheel and airbag combination. 2016-2018 have one airbag plug and the late 2018-2021 have two plugs. You need a single airbag plug for the  4thgen.
You cannot use a 2019-2021 airbag on a 2016-2018 steering wheel or vice versa. They have different mounting points. See reference photo in this post.
To retain cruise control, you need to get a steering wheel without intelligent cruise control. If you don't care about cruise control (or will re-route your existing controls to a different location), then you are good.
The airbag wiring is very easy. I used a spare 6thgen Maxima air plug to make mines plug and play. Check my video in this post to see more info on it. The 4thgen airbag connector has two wires, making it super easy to make a plug-and-play harness. I tested this out and can confirm you don't get any flashing airbag lights.
For the horn, you use your existing ground wire from the 4thgen steering wheel.
If you want to retain the heated feature, you will need to route the two extra wires. You can wire it up to a separate switch or an OEM timer-based switch.
The 4thgen did not come with steering wheel audio controls. You can make it work with an aftermarket device but will make the project more complex.
Working Features
100% Working Airbag (No Blinking Airbag Light)
100% Working Horn
100% Working Heated Wheel Function (If wired)
Total Cost: $280.00
Airbag: $180.00
Steering Wheel: $100.00
Regular Cruise Control vs Intelligent Cruise Control
2016-2018 vs 2019-2021 Steering Wheel Comparison
Installation Photos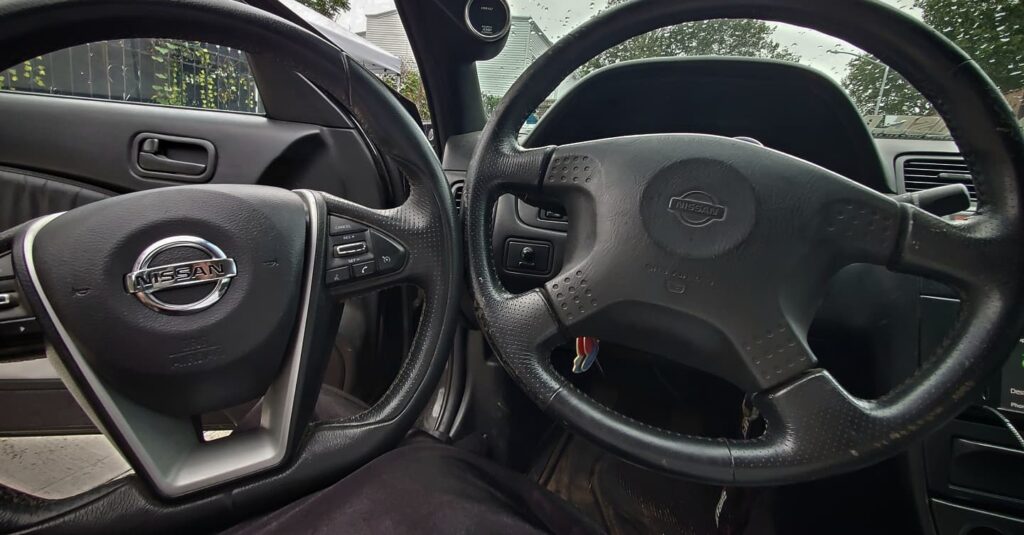 Airbag Information